1. About Zeelool Rewards
2. About grades
3. About rewards
4. Further details
1. About Zeelool Rewards
1.1 Introduction
Welcome to Zeelool Rewards (our loyalty program)! Zeelool Rewards is a reward program initiated by Zeelool. You can join the loyalty program and earn points and member-only benefits by completing reward tasks. After joining our loyalty program, you can earn the growth points needed to level up by purchasing items. When the growth value accumulates to the corresponding value, the membership level can be upgraded. By joining Zeelool Rewards as a member, you agree to be bound by these terms and conditions.
1.2 Validity
You can become our member for free by filling in the membership information. When the growth value accumulates to the corresponding value, the membership level can be upgraded. The growth value can be obtained by paying for the successful purchase of goods on the Zeelool website, and your actual amount each time (excluding tax and shipping) will be included in your growth value. The refund/rejection/cancellation amount of your order will affect your growth value.
1.3 Membership
Zeelool Rewards does not charge any fees. Zeelool Rewards memberships are limited to individuals and are limited to one account per person.
Your identification shows that you are of legal age to join our program, and it is your responsibility to keep the email and contact details in your account up to date.
Zeelool reserves the right to cancel membership for breach of any terms and conditions. Any fraudulent activity or attempts to manipulate or abuse the program will result in account removal from the program without notice. When membership is terminated, all unused benefits (including coupons, growth points, etc.) associated with membership will be forfeited.
2. About grades
2.1 Introduction
Zeelool Rewards has four membership levels: V0 level (you can become V0 level by joining Zeelool Rewards), V1 level, V2 level, V3 level (you can upgrade to the corresponding level when the growth value reaches the corresponding value)
2.2 Changes
From the day Zeelool members obtain qualifications, your level will change with the growth value, that is to say, when your growth value accumulates to the growth value required by the corresponding level, you will automatically upgrade to that level; please note that On the first day of each quarter (i.e. January 1st, April 1st, July 1st, September 1st each year), you need to evaluate your membership level again, and your membership level may occur on each rating day changes, the data refresh typically takes up to 24 hours. Please check your grade after 24 hours. Please note that your membership level is based on eligible purchases (excluding tax and shipping) over the past 12 months of each rating date, which is the 12 months prior to the first day of each quarter update date. For example, when evaluating grades on April 1, 2024, the statistical growth value range refers to purchase orders during the period from April 1, 2023, to March 31, 2024.
Once you spend at least $45 (excluding tax and shipping), you'll start receiving tier benefits. Zeelool membership has 4 tiers and associated rewards:
V0, Bronze under $45
V1, Silver $45 and above (under $95)
V2, Gold $95 and up (under $215)
V3, Diamond $215 and above
When you spend at least $45, you will automatically enter V1 Silver and be eligible to enjoy all the benefits of V1 membership. Once you spend at least $95 in your first year, you'll automatically move up to Tier V2 Gold. If you spend $215 or more in your first year, you will be eligible to become a V3 Diamond. Your tier status will be updated within 24 hours after eligible purchases and related benefits will be unlocked after 15 days, and the unlocked benefits will have a corresponding validity period. Returned, refunded, and canceled orders may result in status reversal.
Zeelool Rewards Special Instructions for Other Situations
In order for your purchase to be eligible for the program, you must create your account and join Zeelool Rewards prior to the purchase date.
The following are special circumstances: If there is a successful order for the latest payment within 24 hours, the date of membership will be recorded as the time of the order.
Points and growth points can be obtained for the latest order (latest order: successful payment within 24 hours).
Example: The time of joining the membership is 14:20 on March 2, and the payment time of the last successful payment order is 16:00 on March 1, then the date of joining the membership is recorded as March 1.
3. About rights and interests
3.1 Introduction
Membership in the Program entitles you to various benefits ("Benefits") which, when upgraded to the corresponding level, enable you to enjoy the benefits of the corresponding level: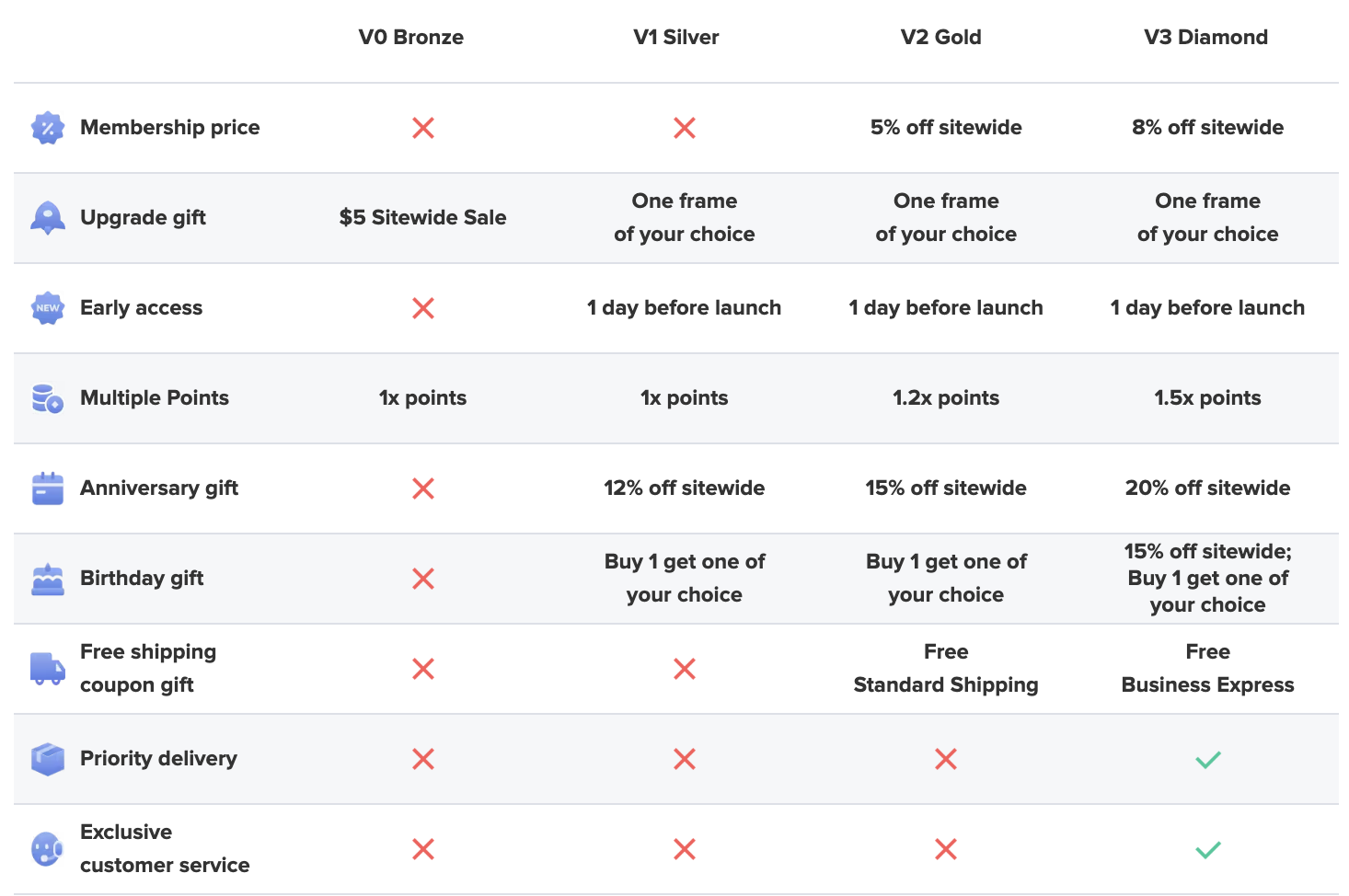 Description of equity rules:
1. If you have downgraded, it will cause "all or part" of the "issued but unused" rights and interests to be invalid.
2. Upgrade gifts and free shipping privileges can be accumulated (upgrading or upgrading within the same year will not result in a second issuance of benefits), and the rest of the benefits are enjoyed according to the level they belong to.
3.2 Other
The details and terms of any offer listed on the Program Site are valid for the duration of your active membership unless otherwise stated on the Program Site.
4. More details
4.1 Approval
Once you join our loyalty program, you are deemed to have read and agree to abide by the rules. ZEELOOL may, in its sole discretion, change, limit, or modify Zeelool Rewards rules, regulations, rewards, memberships, or any other feature of Zeelool Rewards and/or may terminate Zeelool Rewards at any time, in its sole discretion, by sending a reasonable announcement of. You can review the latest version of the Rules on this page. If you continue to use ZEELOOL membership benefits after the terms of these rules are changed, you are deemed to have accepted the revised rules. If you do not accept the revised rules, you should take the initiative to stop enjoying the member rewards stipulated in the rules. Please check the website periodically for updates.
4.2 Termination and/or Removal
You can cancel your membership at any time through your account on the site, or please contact ZEELOOL customer service. It is your responsibility to check or review these Terms from time to time to stay informed of any changes.
Please note that terminating your membership means you will only be able to shop at zeelool.com using guest checkout, and any outstanding points and outstanding rewards remaining in the account will be forfeited.
4.3 Limitation of Liability
ZEELOOL may modify the terms of the program, including rewards and tiers, or suspend or terminate the program if, for any reason, including instances of fraud or attempted fraud, the program fails to function as planned, which may result in the failure of the purchase and cancellation of the associated All rewards and privileges associated with the program. Any misuse of the program, failure to comply with any provision of the program, any misrepresentation or any conduct detrimental to the interests of ZEELOOL, fraud, or attempted fraud may result in the member being disqualified from membership and will affect the member's eligibility to further participate in ZEELOOL.
4.4 Communication
If the terms and rewards are modified, suspended, or terminated, ZEELOOL will notify you by mail, email, and other marketing channels with your permission and display all changes on this page. Unsubscribing will result in you not being able to receive timely news from us, and you will not receive any compensation from ZEELOOL for program modification or suspension. Please note that ZEELOOL may continue to send you emails, such as changes or information regarding your account and Zeelool Rewards membership.
ZEELOOL reserves the right to modify, update, or terminate the Zeelool Rewards membership criteria at any time, which may involve changes to tier status and rewards. Finally, ZEELOOL has the final interpretation right.
You can contact customer service if you have any questions about Zeelool Rewards.